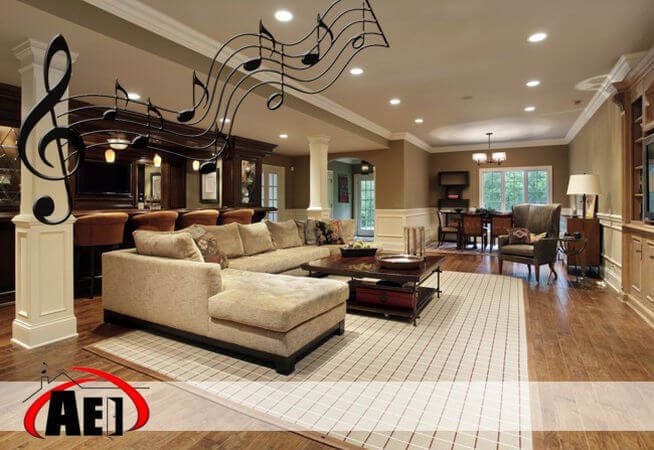 Sometimes the most pleasure comes from what you hear not what you see. With distributed audio you can hear music wherever you are in your home, all controlled by the touch of a button.
Listen to soft background music, crank up the volume for a summer BBQ or distribute your favorite satellite music program to every room. It is more than just great sound. It's a lifestyle.
With a multi-source distributed audio system, you can access your favorite Internet music in the Kitchen, audio from your TV in the Exercise room, personal MP3 collection in the Library and listen to talk radio in the Craft room.
All these audio sources can be individually controlled by your i-Pad / i-Phone or locally mounted easy to use keypads with individual volume controls to enhance the listening experience.
For additional information call 541.245.3100 or email: dennis@aeinteriors.com 
What Our Clients Say
"My wife and I ran across Accurate Electronic Interiors, Inc. (AEI) in 2006 when we started working with an out-of-state builder on the construction of our retirement home. It only took one meeting with Dennis & Bruce to verify that AEI not only had the professional experience, knowledge, skills and ability but, as critical, a compatible personality to undertake this type and size of project and be able to work with us and our specific demands.

We have recommended AEI to many other friends in the southern Oregon area and would have no reservations in recommending their services to others in need of a professional, knowledgeable and competent team to transition their dream systems to reality."

Dennis Tetz

As past and present customers of Accurate Electronic Interiors, we simply cannot say enough good things about this Company. We asked Dennis Lane , President of Accurate Electronic Interiors, if we could write a note of appreciation and recommendation for the great job AEI recently completed in our Medford home.
​
"Earlier, our perception had been that home theatre and sound systems would be priced out of our reach. We were thrilled to find that AEI would work within our budget to help us accomplish our designs. We ended up with the custom designed system we had wanted, within the time-frame promised, and on budget. Outstanding service is rare these days, and this Company responded to our only service request on the same day!

We recommend Dennis Lane and Accurate Electronic Interiors wholeheartedly."

Dave DeMerritt and Toni Adams DeMerritt
Medford, OR

"We have been very happy with AEI (Accurate Electronic Interiors, Inc.) and their employees. They are all very knowledgeable in high-tech electronics, are very easy to work with, and are always very quick to respond to any problems or questions we have.

We very much appreciate all the work they have done for us and would feel very comfortable recommending them."

Robert & DeAnna Eastman
Central Point, OR

"Our experience with AEI was one of the highlights of building our house. We were pleasantly surprised at the level of knowledge and full range of product that Dennis and his team offered to integrate the lighting, video, sound, phone, security, HVAC and pool controls in our home. The resulting installation is both fun and efficient to use. We highly recommend their capabilities and work."

Tyson & Leanne Wood
Medford, OR

"After eight years of using our great media system installed by AEI, we realized that our system was sadly out-of-date, as cutting edge technology changes so rapidly. So, of course, we had AEI completely revamp our system, with state-of-the-art television, broadband and audio components. We once again are completely satisfied with AEI's knowledge, service, and responsiveness to our needs. We would never consider using any other provider for our media systems. AEI is the best there is."

Neil Sechan & Matt Messner
Ashland, OR