Just as almost everything has been shaken up due to the pandemic, the 2021 Golden Globes have been delayed by almost two months.  Their revised schedule sets the new date for the annual event as February 28 with Tina Fey and Amy Poehler hosting the show.  Now's the time to put your home theater to good use by catching up on films and television shows nominated for this year's awards.
What should you catch up on?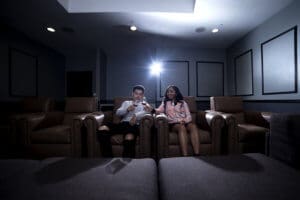 The entire list of nominations is filled with a full spectrum of subject matter and features a broad diversity of actors, actresses, and directors.  One place to start is with the film and television series receiving the most nominations.
"Mank" took home the most nominations (6) for a motion picture.  The film features 1930s Hollywood as experienced by Herman J. Mankiewicz as he was writing the screenplay for "Citizen Kane."  With beautiful black and white cinematography and interesting characters to set the stage, the movie immerses the viewer to experience Mankiewicz's creativity from his eyes.  To fully appreciate the nominated film, you might choose to watch both "Mank" and "Citizen Kane."
"The Crown" tops the list as receiving the most nominations (6) for a television series or program.  With 4 seasons and 40 episodes available for binge-watching, this series follows the lives of the Royal Family and their trials and tribulations throughout history.  The latest 4th season has peaked greater interest as it canvasses the Princess Diana years of which many viewers followed first-hand during her life.
Here are just a few highlights of this year's nominations:
 Best Motion Picture – Drama:  "The Father", "Mank", "Nomadland", "Promising Young Woman", and "The Trial of the Chicago 7"
Best Motion Picture – Animated:  "The Croods: A New Age", "Onward", "Over the Moon", "Soul", and "Wolfwalkers".
Best Television Series – Drama:  "The Crown", "Lovecraft Country", "The Mandalorian", "Ozark", and "Ratched".
Check out the Golden Globe Awards site for more information about all the nominees for every category.
Want to enjoy cinema-quality sound and screen in your home?
If you aren't already watching your favorite movies and television shows in a home theater designed by Accurate Electronic Interiors, now's the time to create a space for your family.  We have innovative home theater designs and media centers perfect for any area—from using a spare bedroom to designing a large party and viewing space in a new build.  A home theater provides you the ultimate getaway as you watch your favorite stories come to life on the screen.  Visit our showroom in Central Point or give us a call to get started today!