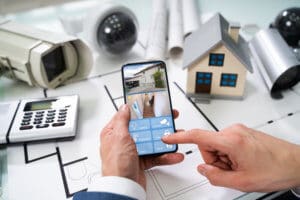 Your home is your castle, and a robust security system will act like a congregation of ferocious alligators in a deep moat to keep burglars away.  Whether you have a current system in place in need of upgrades or designing a new system from scratch, here are a few tips to make your security system more effective.
7 Easy Ways to Make Your Home Security System More Effective
Install home security and monitoring cameras.  One of the most effective deterrents of crime is the presence of security cameras. 60% of convicted burglars admitted that security cameras were a significant factor when deciding which home or business to break into.  Regardless, home security cameras provide other assurances to homeowners.  Most monitoring systems allow homeowners to review live and stored video footage from any mobile device. In the event of suspicious activity, footage can easily be shared with law enforcement.
Include all of your doors and windows in your system.  Many homeowners only place sensors on doors and, too often, only the main entrance.  Burglars are stealthy and will look for an unprotected means of entry–usually a window that isn't visible to neighbors or the street.  The cost of additional sensors is low, so all entry points should be included to keep your home secure.
Add motion-sensor lights around the exterior of your home and property.  Burglars don't want to be seen.  Simply having bright exterior lights that turn on when they detect movement may be enough to startle and scare away intruders.  Besides, they are handy when you need to go outside in the dark to take the trash out or get to your car.
Post signage about your security system.  Many home security systems come with stickers and signs notifying perpetrators that your home is secured.  You can also purchase custom-made or off-the-shelf signs with similar messaging.  While it may seem overly simple, these signs make a difference in deterring crime.
Use wireless technology with backup communication networks.  Many old systems are wired and may require telephone communications to transmit signals to the local authorities.  Contract with a local security company to install a modern system that burglars cannot easily disengage.  The best systems have a backup communication line, so if the primary line is compromised, there is another way for it to communicate with the police.
Network with your neighbors and community groups.  Neighborhood watch programs have been around since the early 1970s, and their existence lowers crime in their areas by about 16%.  It's also helpful to participate in other local neighborhood groups or social media networks to learn more about crime specific to your streets and share information about suspicious activity.
Turn the system on when you're away.  Unfortunately, many homeowners forget or are wary of turning the alarm on when they leave or during the night.  The system will only be effective if it is armed.  Ensure all family members know how to use the system and feel comfortable arming and disarming it.
Always know what's happening around your home or business with top-of-the-line surveillance cameras from Accurate Electronic Interiors.
Today's surveillance camera systems are functional, effective, and affordable for every homeowner and business.  Whether you want a single camera to monitor your front entrance or require a network of cameras throughout a commercial location, Accurate Electronic Interiors will ensure your location is protected appropriately.  Pan-tilt-zoom and stationary cameras can be set up for viewing and control using your computer, smartphone, or tablet.  Stop by our showroom to learn more about our surveillance cameras and other home automation elements to customize your home to fit your lifestyle better.