Today's home surveillance systems allow you to capture footage during the day and night.  These cameras collect information about intruders that you can give to the police, and having security cameras often deters criminals from breaking in altogether.  Many of these systems can alert homeowners of motion or activity when the system is armed.
Home surveillance cameras can also protect you and your family against being victims of other crimes, from fraudulent salespeople to vandals.  None of these perpetrators wants to be captured on camera and are likely to stay away from your home.  Combine camera locations with motion-activated lights to expose intruders and let them know they've been caught on camera.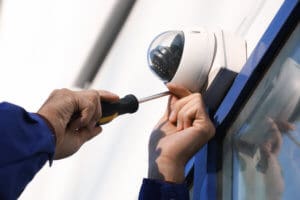 If you're planning to have surveillance cameras installed in your home or around your property, here are the best places to install home surveillance cameras:
Your front door.  Criminals will often test our location by going to the front door, sometimes knocking or ringing the doorbell to see if there's any activity in the home.  Having an exterior camera aimed at your front porch lets them know they will be on camera if they choose to proceed.  Get video footage of anyone entering your home with a second interior camera pointed towards the front door.
Other entrances.  Burglars may feel a side or back door is not as visible and use one of those entrances to try to sneak into your home.  Adding motion lights and cameras will remove the secrecy from their plans.
The garage.  Thieves know that garages are filled with expensive equipment and often serve as excess storage for all kinds of valuables.  These areas are usually closed off from the rest of the home with thick walls or soundproofing.  One or two cameras in the garage will help you monitor what's going on at all times.  Plus, you can use your camera to double-check that your garage doors are closed.
From high rooflines.  You can capture wide shots of activity in the property around your home by placing some cameras up high on each side of your house.  This may help you gather information about how many perpetrators were involved and any vehicles used in the process.  These cameras are inaccessible to people on the ground, preventing criminals from damaging or disabling them.
In family room areas.  Criminals will often choose first-floor accessible windows in spaces they feel will be vacant during nighttime hours.  Cameras facing these windows and sliding glass doors will capture video footage of anyone trying to sneak in.
For the best in home protection, choose the professionals at Accurate Electronic Interiors.
From planning to installation, our team of professionals is experienced in all aspects of home automation.  We will work with you to design a system that best fits your specific needs.  Our systems work together seamlessly to alert homeowners and intruders, capture footage, and make it easy to see what's going on at all hours of the day and night.  Keep your family safe.  Visit our showroom or contact us to learn more about what's possible with modern home automation.