Home theaters use modern audio and video equipment to create an immersive experience resembling a commercial movie theater.  Over the years, the technology to connect components, the quality of projectors and speakers, and the methods in which movies and music are accessed have evolved, making today's home theaters better than ever.  The good news is that with a few tips, today's home theater solutions can be an affordable investment.
Typical Components of a Home Theater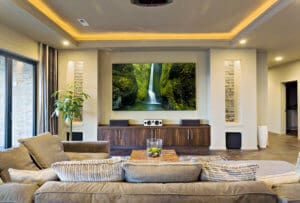 Home theater systems are custom-designed to meet your specific needs.  Some of the most common elements include:
Connectivity to cable, satellite, and other internet services.
Home network and media server.
An audio system including in-wall speakers and subwoofers
LED projector or large-screen television
Other media devices such as CD players, Blu-ray disc players, etc
Lighting and thermostat controls
Automated window shades/blinds
How can I make a home theater system more cost-effective?
The lowest-cost alternative isn't always the best, especially regarding technology.  It's essential to consider the long-range cost of owning and operating a home theater system and avoid saving a penny to lose a dollar.  Here are a few simple ways to make sure you're making the best investment possible:
Start by talking with a professional.  A professional home theater technician like those at AE Interiors begins by understanding your desires for your ultimate home theater experience and helps you explore all the possibilities in our on-site showroom.  With a general layout of your home and theater placement, we'll be able to discuss all the technical details related to installation.
Don't buy mismatched components from big box stores.  Avoid the "Black Friday" deals and bright, colorful packaging of popular "smart home" systems.  Often, these devices are designed with a limited lifespan and don't always work well together.  Also, many of the inexpensive cables and components at these retail outlets have poor quality and high failure rates.   A professional system from AE Interiors starts with a sound network solution that allows for upgrades and expansions as technology (or your demands) evolve.
Don't buy components you don't need.  Consider how you currently watch movies or listen to music.  The best solution for you is one that accesses your existing libraries using high-quality equipment while not requiring investments into other devices you don't need.  For example, if you stream most of your movies and television shows, don't waste money on a costly new Blu-Ray player.  At AE Interiors, we connect you with the technology you need to bring your vision to life without unnecessary add-ons.
Start your exploration into a home theater with a visit to AE Interiors.
If you want to design the perfect home theater experience for your friends and family, talk with our professionals at Accurate Electronic Interiors.  We are Southern Oregon's first choice in home theater and SMART home electronics design and installation.  Our teams install quality electronic systems that seamlessly automate your home theater, window coverings, lighting, outlets, surveillance system, and more.  Visit our showroom or give us a call to learn more about how we can make your life easier.