In today's technologically-driven world, electronic devices play an integral role in an individual's professional activities, communication capabilities and enjoyment. Some people devote entire areas of their home to such contraptions. In certain instances, said subjects establish a media room. Other times, they create home theatres.
Overview
In reality, many home entertainment industry professionals opine that there is not a tremendous difference between media rooms and home theaters. Both areas are spaces designated to house items like large televisions augmented with special features like high definition and surround sound.
Discernible Differences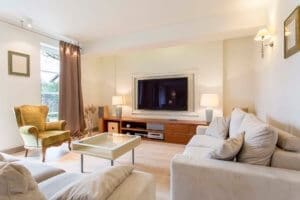 The major contrasting factor between a media room and home theater is the ambiance. Media rooms are more akin to more common terms like family and living rooms. These rooms are intended to be comfortable meeting spaces where families can gather to spend downtime together.
Home theaters are created to be what their name implies. These rooms are often designed to copy the experience you might experience when visiting your local cinema. Owners typically equip these facilities with large projection-like screens, wall speakers, recess lighting, blackout curtains and plush seating.
Additionally, building a home theatre can prove costly and requires the designer to consider several important factors like lighting, sound reverberation, creating a safe distance between the screen and prospective guests and creating appropriate spaces between seats.
Deciding Which Design If Right For You
When weighing the two options, you must determine what your entertainment goals are. If you wish to create a location for a family and friends to casually gather to watch various programs and events, media rooms are a more appropriate choice. However, should you wish to create a true cinema experience, a home theatre is likely a better route to travel.
Contacting Us
If you are in the process of upgrading your home's entertainment capacity and having difficulty deciding between a home theatre and media room, please give us a call. We can assess your needs and help you design the entertainment center of your dreams.