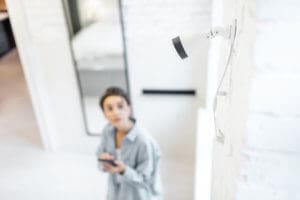 Home surveillance cameras have become an increasingly common addition to houses as technology continues to advance. Despite all the protection these systems offer, some may hold off from installing them due to the area they live in. While certain neighborhoods and areas may have little to no crime rates, that doesn't mean that crime will never happen. Studies have shown an apparent 24% rise for in-home burglaries after the pandemic, and with the summer season coming in full swing, more families will be away from their houses for vacations and more break-ins are expected to occur. Now more than ever, this demonstrates the need to invest in a security system. However, with the numerous pros that come with a surveillance system come a few potential cons, here's a list of both to help see if a security system is best for you.
Pros
Built-In Deterrent – Having visible surveillance cameras outside your house is proven to deter burglars alone. When interviewed by police, 60% of convicted burglars stated that if they saw a security camera, they would steer clear from that house. Even the inclusion of a single camera around your front door is enough to prevent petty package theft.
Keep an Eye on Pets – When at home, pets can always be doing a number of things they're not supposed to when you're not looking. Without your presence in the house, who knows what they could be up to. While at work, away on vacation or for any other reason, having a live feed of your animals' favorite areas to lounge in can alleviate any worries you may have about your furry friend.
Peace of Mind – Having cameras around your house can add a feeling of safety knowing that in case of any potential home intrusion, there will be footage. The greatest fear is fear of the unknown, and if strange noise is heard outside, instead of wondering, just pull up the current feed from your outside security cameras.
Cons
Potential lack of privacy – Privacy is always called into question whenever cameras are present, and for good reason. In today's day and age, it feels like there's always something monitoring you, whether it be your phone or your computer. With live feed being captured and sent to your phone, you may be scared of potential hacking. Hacking feed from personal security cameras is next to impossible and many security systems have the option to disable specific cameras for your own comfort.
Costs – Implementing surveillance cameras system may be a bit costly depending on how many cameras you want and the types of systems. However, taking into consideration the amount of money you may lose in household appliances and luxuries if your house were to be broken into, the one-time cost for the equipment purchase isn't that unreasonable.
For the best in home protection, choose the professionals at Accurate Electronic Interiors.
From planning to installation, our team of professionals is experienced in all aspects of home automation.  We will work with you to design a system that best fits your specific needs.  Our systems work together seamlessly to alert homeowners and intruders, capture footage, and make it easy to see what's going on at all hours of the day and night.  Keep your family safe.  Visit our showroom or contact us to learn more about what's possible with modern home automation.