Have you decided to upgrade your recording studio? Well, congratulations. Regardless of how powerful your instruments are, if your studio is not acoustically optimized, it is almost impossible to enjoy your tools' full performance. Whether you are looking for drum shields, bass traps, or diffusion, Accurate Electronic Interiors, Inc is your first choice for acoustic treatment products.
We have a full selection of studio isolation devices and even acoustic treatment accessories to fit your range of needs and desires. Are you feeling particularly ambitious about the look of your new entertainment space? We've got you covered with complete room systems and acoustic construction materials.
What Is the Difference Between Acoustic Treatment and Soundproofing?
People often tend to confuse soundproofing with acoustic treatment. So, while both are crucial in any recording studio setup, they play different roles.
Soundproofing isolates a room from outside noise. Usually, dense materials are installed on the walls to prevent sound from leaking out or inside the room. However, while the acoustic treatment may not isolate your room from outside noise, it absorbs naturally occurring reverberation in a space, making sound recordings better.
Having the right acoustics is essential for high-quality mixing, recording, and mastering. We have both high-quality acoustic products and soundproofing collections from leading brands.
Benefits of Acoustic Treatments
Although you might not have initially designed your recording studio in a recording friendly environment, acoustic treatment is what you need. You may know that a room has its sound, and that sound can be affected by anything on its path. When sound is traveling in space, it creates sonic anomalies that are different from the original audio. Therefore, when you are recording, you are likely to record or listen to sound bouncing off the walls.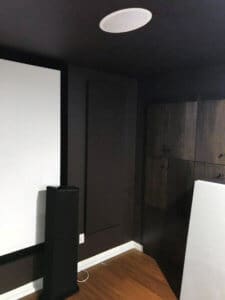 Isolation Acoustic treatment is the best solution if you want accurate recordings that are unaffected by other sounds in the space. Some of the benefits of acoustics include:
Improving the sound quality of recordings: Since the size and other aspects of a room can affect the frequency and ambiance of sound waves, acoustic panels can generally improve the sound quality of your recordings.
Acoustics like acoustic foam panels and fills absorb the sound reflections and eliminate unnecessary reverb. Check our range of isolation acoustic treatment options like panels, diffusers, and bass traps to customize your setup.
Types of Isolation Acoustic Treatment and Placement
Bass Traps – Bass traps are of two kinds; porous absorbers and resonant absorbers. These acoustics deal with lower frequencies, and you can place them in corners. While porous absorbers are usually placed away from the walls to absorb bass frequencies, the resonant ones are positioned closer to walls and tuned to reduce specific bass frequencies.
Acoustic panels are placed directly against the wall to mitigate the flutter echo. Ceiling clouds are lightweight and suspended horizontally from the ceiling to reduce natural reverberations. Instead of absorbing sound, it randomly scatters sounds to minimize echo.
Some other types of acoustics include Helmholtz resonators and rigid fiberglass insulations. They are versatile in placement and resolve specific frequency issues.
Do you need help with choosing the right isolation acoustic treatments? Contact us at Accurate Electronic Interiors, Inc. We are available to examine your room dimension in sketches or photos to recommend the best isolation acoustic treatment that suits your lifestyle and space