MQA, or Master Quality Authenticated, is a technology developed using innovative digital coding that optimizes the physiology of how the human ear hears sound.  Hearing is one of the most intense senses humans possess.  For example, within milliseconds, a person can hear a noise and form a reasonable estimation of where the sound is coming from.  Sound engineers use this science when designing structures for musical events. Orchestra ensembles are arranged in a manner to optimize the flow and direction of sound for its audience.
MQA was created by company founder Bob Stuart and long-term collaborator Peter Craven as Meridian Audio (now MQA, Ltd.)  While MQA launched in December 2014 in London, it has taken some time for the technology to become more accessible to consumers.
How does MQA work?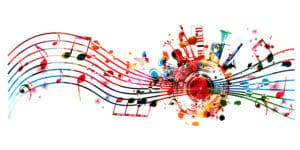 An easy way to understand how MQA works is to compare them to ZIP files. First, the audio file is transformed into a compressed code so that a significant amount of audio data can be streamed over the internet efficiently. Then, when a decoder unit receives the file, the file is expanded, and the listener can enjoy rich music content.  The encoded files are designed to be played using audiovisual systems with proper decoding technology; however other types of components can now play files–although with some degradation of audio quality.
For serious audiophiles, listening to MQA with the proper decoder systems is the closest replication to attending a live concert in person.  Because of its coding format, authentic recordings are guaranteed.  Grammy award-winning mastering engineer Bob Ludwig had this to say about MQA:  "The thing about the authentication aspect of MQA is that I can know that the listener at home is listening to the identical analog sound that I've approved and that the artist has approved."
How can you listen to MQA?
One of the most popular desktop and mobile applications to use MQA files is TIDAL.  TIDAL is a subscription-based music streaming service.  Our Savant Media Server can play files from TIDAL.
To use TIDAL on a Savant Media Server, contact us to request a firmware update to your system.  You will need to provide your TIDAL account credentials to connect your subscription to the server during the update.  Once the firmware update is complete, you will be able to access TIDAL as a streaming source on the Savant application.
Are you ready to enhance your home automation system?
Whether you're starting from scratch or adding to existing home automation, the professionals at Accurate Electronic Interiors can help you transform your home into your dream space.  We are Southern Oregon's first choice in home theater and SMART home electronics design and installation.  Give us a call at 541-245-3100 to set up your private tour of our showroom and try out home automation features to see how fun and easy they are to use.