Creating the perfect home theater experience in your personal abode is a great way to entertain friends and family.  Viewing movies or watching a live football game in comfortable chairs that each have a perfect line of sight to the screen and hearing the action from strategically positioned speakers in an experience like none other.  If you've decided a home theater is in your future, now is the time to begin planning for it.  The first question to tackle is, where should you put it?
There are three key items to consider when designing the perfect home theater:  sound, lighting, and accessibility.
The Perfect Home Theater Sound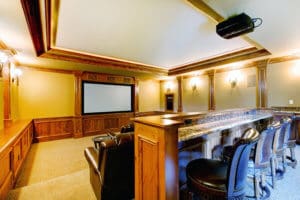 When speakers are placed in the correct positions, the sound from a movie can make a spectator feel they're in the heart of the action.  There are several speaker setups to choose from, starting with a basic 5.1 system to a more complex 7.2.4 design.  A professional home automation technician can help you determine the system to best suit your needs and where the speakers should be placed.
The size and shape of a room will impact how the sound waves travel.  A room with a dimension within the ratio 1 X 1.6 X 2.6 works best.  For example, that could be a room with a ceiling height of 10 feet, width of 16 feet, and length of 26 feet.
Acoustic panels are often used to absorb sound to prevent it from bouncing and disrupting other sound waves.  These panels are constructed of insulative foam material to absorb the sound waves and are often covered with a porous fabric to help blend them into the room's decor.
Obviously, if you're in the process of designing a new home, you have the advantage of including specifications for an ideal layout.  However, if you're adding a theater room to your existing home, you may need to choose the space closest to these specifications.
Lighting
Lighting is the next most crucial element, but one that is more easily controlled.  Think about the last time you visited a commercial movie theater and what the interior looked like.  There were no windows, the ceilings were likely black acoustic tiles, and the walls may have been dark purple or navy with curtains covering acoustic panels.  For your home theater, you can add automated black-out blinds to your windows, paint the walls and ceiling a dark color, and install minimal task and safety lighting.  These alterations will keep the focus on the screen and eliminate shadows, reflections, and other distractions.  The best home theater setups allow the host to effectively change over a room from everyday use to a darkened home theater with the push of a button on a home automation mobile dashboard.
Accessibility
Last, you'll need to consider accessibility–how easy it is to wire all the speakers, projector, A/V equipment, and other devices to electricity and the internet.  For new builds, it's a good idea to consult with a professional home automation team during the design phase to ensure all necessary wiring is installed during construction.  However, these same pros can work with you to figure out the easiest ways to install networking, speaker wires, and electricity to existing structures.
Are you interested in learning more about voice-controlled home automation for your family?
If you want to design the perfect home theater experience for your friends and family, talk with our professionals at Accurate Electronic Interiors.  We are Southern Oregon's first choice in home theater and SMART home electronics design and installation.  Our teams install quality electronic systems that seamlessly automate your home theater, window coverings, lighting, outlets, surveillance system, and more.  Visit our showroom or give us a call to learn more about how we can make your life easier.