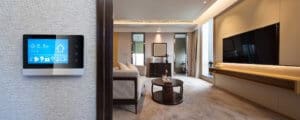 When you invest in smart home automation, you're creating an environment tailor-designed to be comfortable and pleasing to your specific desires.  Extending home automation with automatic temperature control and your home's climate with lighting and sound for the perfect atmosphere—whether it's time to begin your daily workout or you're gearing down to relax from a busy day.
Sleep better. Cooler nighttime temperatures have been proven to enhance sleep.  The body's sleep cycle is triggered by two events:  darkness and cooler temperatures.  Optimum sleep occurs in temperatures ranging from 60-67 degrees.  In fact, some sleep experts recommend cooler nighttime temperatures to alleviate insomnia.
Relax more easily. Excessively warm temperatures aggravate the body.  When a home is too warm, feelings of stress and aggravation can increase as your body senses something in the environment is not right.  Automated thermostats can measure the temperature in multiple rooms of a home and adjust operations to maintain a calm, pleasing temperature throughout the day.
Instant comfort. There's nothing worse than coming home after a long day of work and shivering while you wait for the heating system to warm up a cold house.  Enjoy walking into a cozy, warm home—just the way you like it.  In the summertime, the same holds true to cool it down before you arrive.
Save money. Automated thermostats allow you to vary the temperature during different times of the day to minimize energy costs.  Set schedules can be programmed or some systems automatically adjust depending on a specific room's occupancy and time of day.  There's no reason to waste money on heating and cooling expenses when no one is home.
Maintain control. Adding a smart thermostat to your home automation system gives you data at your fingertips about temperature settings and actual room temperatures.  You'll know if someone adjusts the thermostat or you can alter the settings remotely if you forgot before you left your house.
At Accurate Electronic Interiors, we recommend Savant systems to manage your home thermostat, audio systems, interior, and exterior lighting, security cameras, and more.  Savant brings total control of your home's environment to the palm of your hand.  Easily access any portion of the system from your smartphone, tablet, or Savant remote device.
Visit our showroom or give us a call to learn how easy it is to create the home of your dreams with our home automation systems.  Whether you're in the process of a new build or renovating your current home, we can help you create a plan that's just right for your family's needs.