A home automation system can boost the enjoyment of your home, but did you know this investment could save you money on your utility bills?  You'll not only enjoy the perfect lighting, relaxing music, and the best home theatre in your neighborhood—you'll be relishing the savings to your monthly expenses, too.  Here are a few ways you'll rack up the savings: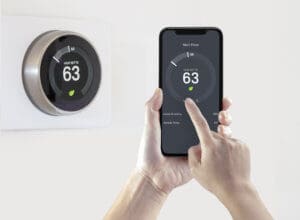 Smart thermostats – Now the temperature of your home can be controlled automatically with simple programming on your mobile device. These thermostats can measure and control the temperature down to the single room level.  Additionally, your home's temperature can be raised or lowered at set times or based on whether or not there is an activity in the room.
Lighting systems – The ability to turn on and off any of the lights in your home from your mobile device is not only convenient, but it ensures you're not leaving lights on unnecessarily. Easy controls allow you to automatically set lights to turn on or off at specific intervals or when someone enters a room.
Automated window shades – While sunlight is wonderful for our souls, too much sun during very hot times of the day can heat up the temperature excessively. With just a click from your mobile device, shades can easily be raised or lowered to keep your home cool, or they can be set to open and close at specific times each day.
Ceiling fans – Just like the lights in your home, your ceiling fans can be controlled via your mobile device, too. This allows you to circulate warm and cool air depending on the season to achieve a more consistent temperature in your rooms.
Added security – Homes with automated lights, window shades, and surveillance systems sometimes receive preferential ratings by insurance companies because these homes often experience less crime. Check with your insurance agent about possible savings on your insurance bill.
Ready to get started?  Simply give us a call to discuss your home automation needs.  We'll be happy to give you a tour of our showroom and demonstrate all the opportunities you have to enhance your home and lower your utility bills.  At Accurate Electronic Interiors, our goal is to provide you with technology and solutions that allow you to easily enjoy your living or working environment.