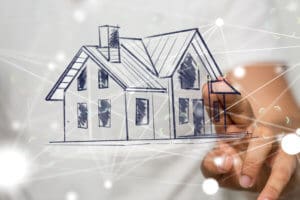 Building your dream home is exciting.  You likely have visualizations of ideal days spent enjoying the various rooms of the new house.  Home automation can increase the livability of the new spaces and will likely increase the home's value down the road.   As you're finalizing your blueprints, don't forget to consider your home automation system's networking needs.
According to Parks Associates, the average American has 12 devices connected to the internet in their homes.  I performed a quick scan on my own home's system and found 58!  Laptops, mobile devices, and television streaming devices are the most widespread; however, today's automated homes also use internet-connected outlets, light switches, thermostats, doorbells, security cameras, speakers, and more.  In the tech world, this is known as the IoT or the "Internet of Things."
Essential items to consider in your new home's plans:
Security.  Any device on a network opens up vulnerability for intrusion on the web.  For that reason, security experts recommend having two or more separate networks in the home, with two individual Internet connections with each using a different router.  Alternatively, many modern routers can create a "guest network," separate from the primary network that restricts access to critical data.  It's a good idea to connect home automation systems to the secondary network to provide the best protection for your sensitive information.
Quality.  Purchase products from professional dealers.  There are various "home automation" items available on popular online shopping websites, home improvement centers, and even the local drugstore.  Cheaper products have limited lifespans and often lack security software and updates to protect your home network.
Access to electricity.  Consider exterior cameras and lighting needs before you finalize the electrical system.  Exterior cameras can capture incredible footage–even at night–but they do require an electrical source.  Particularly if you have a large plot of land or long driveway, you may want to install remote electric outlets to place cameras at viewing points.
Wiring and ethernet ports.  The proper wiring can make all the difference.  Ethernet ports in various rooms allow homeowners to plug computers, televisions, home theater systems, and other devices directly into the network.  Direct connection removes issues due to spotty or weak WiFi.  Cat 5, Cat 5e, or Cat 6 cables are best and should run to any room where your family or guests will use a computer, television, or theater system.
WiFi range.  WiFi extenders can broaden the range of your network for other devices.  WiFi range existers have been used for years to help get WiFi to areas of the home distanced from the network hub.  However, today, newer products like satellite extenders act as hubs to grab signals, strengthen them, and extend them to remote rooms.
Does this information sound complicated?
At Accurate Electronic Interiors, we have the professionals on staff to make creating the ultimate home automation environment a breeze.  We can work with you and your contractor to ensure your home's plans include sufficient electrical and networking systems to establish a proper foundation for your needs.  Visit our showroom to try out our best-of-breed home automation tools, and we'll help you select the right products for your home.  When the time comes, we'll make sure everything is installed correctly, so you just have to sit back and enjoy it.