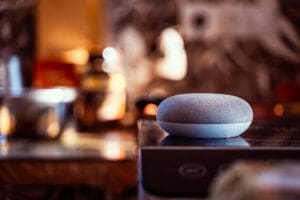 People across the country are in love with home automation.  Experts estimate 8.4 billion digital voice assistants will help keep just about anything hooked to the electric grid operating remotely by 2024.  Today, it's simple to use a handheld device to turn lights on and off, change the channel on television, unlock doors, secure the home, and more.  On average, a household has about 21 devices that are connected through their home's wifi network.  Smart home technology has changed the way Americans live.
For anyone who has picked up a smart plug at the local big box store, this automation comes with significant drawbacks.  Products commonly found at home improvement stores or online retailers are mass-produced with little to no quality control.  This means that these devices often have serious flaws such as:
Lack of security protocol to appropriately keep your home network safe from intrusion,
Little ability to work well together, resulting in the need for multiple mobile devices,
Limited lifespans due to programming obsolescence, so devices must be replaced every few years, and
Unstable platforms that aren't consistently recognized by the software application.
For a quality home automation experience, don't waste your time with store-shelf products.  Instead, seek the professional services of home automation experts like Accurate Electronics Interiors.
Why is a professional, smart home technology installation better than DIY?
First, home automation experts will start from the ground up.  This means they begin by looking at your home network.  Before you start adding wireless speakers and automated window coverings, this team will ensure you have the proper network hardware and software, plus wiring or remote connections you need to deliver the results you desire.
Next, the team will work with you to design a system that fits your lifestyle and budget.  We'll help you prioritize your components so the overall system can grow with you as your needs change, or your pocketbook allows.
Finally, you'll have the peace of mind that your system will operate effectively for the long term.  We've spent years researching the marketplace and testing equipment to determine the best quality home automation components for our clients.  We install units that work well together, are simple to control, and stand the test of time.
How do you begin your journey into home automation?
With Accurate Electronic Interiors, of course!  Simply give us a call or stop by our showroom in Central Point.  In our showroom, you have the opportunity to try all the different components of our home automation products to see how easy they are to operate and determine which should be a part of your custom-designed plan.  Why wait another day to start designing the space of your dreams?