There's no doubt implementing systems like voice-controlled lighting, distributed music, home theater technology, and modern surveillance cameras can make you feel more comfortable and secure at home.  But are there other ways that "smart technology" can increase your health and wellness?
Absolutely.  In fact, based on your individual needs and lifestyle, there are plenty of fun products you can choose from that will encourage healthy behaviors and track fitness progress.
Remember the craze created by the original Fitbit?  While Fitbit wasn't the first fitness band to hit the market, it was likely the most popular of its time.  Users tracked steps using the Fitbit app on their smartphones and competed against friends on app-enabled fitness challenges.  Since then, been a wide variety of fitness bands will do everything from tracking any form of exercise to monitoring heart rate, pulse, blood pressure, sleep patterns, and more.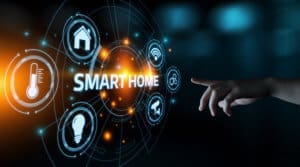 Smart technology makes it easier to exercise in limited space, too.  For example, digital dumbbells allow users to increase or decrease their "weight" using electromagnetic technology with a quick click of a button.  There's no reason to keep a complete set of weights in the garage anymore.  Its computerized systems track repetitions and duration so you can see your progress from your computer screen.
Smart scales transform the way you weigh yourself.  These units connect your bathroom scale to a mobile application to track your progress, measure your body mass index, and let you know if you're on the right trajectory towards meeting your weight loss goals.
Did you forget to drink enough water today?  There's an app for that, too!  Drinking enough water each day is essential for health and wellness.  Computerized flasks track the amount of water consumed and relay the data to a smartphone application.  These devices aren't just for health fanatics; they can be valuable tools to make sure elderly individuals are drinking the water they need or helping patients on specific medications ensure they are drinking sufficient water required by their prescriptions.
Not getting a good night's rest?  Smart technology can help you determine why.  Mattress sensors can monitor your movements, respiration, and heart rate so you can review what's going on during the night with your physician or sleep specialist.
Ready to take the plunge into smarthome technology?
There are so many "smart" tools at our disposal now to add convenience, comfort, and motivation to our lives.  The best place to start creating your perfect smarthome is with a quality foundational system.  Our team will ensure your system will serve you well for decades to come.
Stop by and talk with our professionals at Accurate Electronic Interiors about the latest in home automation technology.  Visit our AEI Showroom to feel what living in a smarthome is like.  Our team can help you decide which systems you'd like to have in your home and build a plan based on your budget to make it a reality.